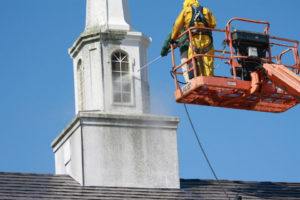 Your home is one of your largest investment, and pressure washing services are the best way to maintain that investment. The build up of dirt, grime, mildew, and algae over time can leave your home, driveway, sidewalks, patios and decks looking rather unsightly. Such build-ups, over time, will break down and cause damage to wood, masonry and degrade your paint. Maintaining your home and business with regular pressure washing can greatly increase the longevity of your property. Our skilled service technicians at Lipscomb Hydra Cleaning Systems come with the best professional grade equipment and cleaners to tackle any of your pressure washing needs.
Other benefits to pressure washing:
Clean and brighten fences, play equipment, and more.
Make your home more sanitary for children.
Remove plants growing where they shouldn't.
Remove stains from your drive and walkways.
Prepare an area for a painting or staining project.
House Washing
Have dirty siding? A low pressure, high intensity "soft" house washing service will maintain and restore your home's look. It is recommended to have your house washed every 2 years to keep down the build up of dirt and grime. Lipscomb Hydra Cleaning Systems uses the highest quality, home-safe chemicals and will have your house looking new again!
Concrete Cleaning
Cleaning your concrete is as much for its protection and maintenance as it is for its aesthetic. Pressure washing concrete removes the build up of dirt and salt deposits from general use over time as well as from weathering. Our certified trained pressure washing professionals are specialized in driveway cleaning, pressure washing concrete in patios, pool-sides and sidewalks. Call Lipscomb Hydra Cleaning System today to get your concrete cleaned and looking brand new!