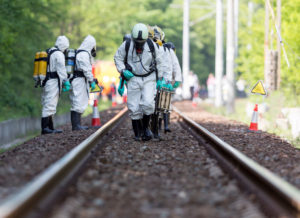 Biohazard situations require more than thorough cleanup. They require sensitivity and understanding about the events that have transpired. Lipscomb Restoration Solutions has the advanced equipment to thoroughly clean, disinfect, and deodorize your property after an emergency. In addition, and more importantly, we're respectful of what you are going through and the situation, as well as serving as your liaison during the cleanup and insurance claims process. We are here for you. Crime or trauma scene accidents may have blood, tissue, or other biohazard contaminants that can pose health risks if not handled properly and professionally. Once the scene is released by authorities, it is very important that a certified company can immediately go on site and begin the cleanup process. Biohazard materials need to be safely and properly removed, and the areas decontaminated and sanitized so that the area can be safe for future use or for the surrounding environment.
Types of Biohazard and Trauma Scene Cleanups we can perform:
Crime Scene Cleanup
Trauma or Accident Cleanup
Suicide Cleanup
Blood, bodily fluids, and tissue remnants
Fire Extinguisher Cleanup
Hoarding Cleanup
Unexpected Death Cleanup
Sewage Leaks, Spills, and Backups
Drug Labs and other illegal activities
Animal Waste and Animal Carcass
Our trained experts are specialists in cleaning and sanitizing homes, businesses or vehicles after these types of emergencies or incidents. Being a caring company, we are compassionate to your situation. We understand that incidents like these can happen at any time of the day, so we are available 24 hours a day, 7 days a week.
Give us a call today. We'll help you through this stressful event (270) 963-0547.