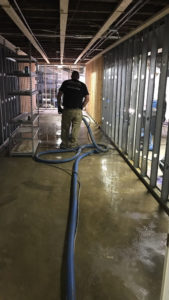 Fires and flood are not usually something you think about – that is until they happen to you. If your home or business has been affected by a disaster, whether it's man-made or an act of nature, you can count on the restoration professionals at Lipscomb Restoration Solutions to be there to help you out.
It is important to know and remember that insurance companies have "preferred vendors" who, more often than not, have the best interests of the insurance company rather than the home or business owner. Lipscomb Restoration Solutions works toward the best interest of you, the property owner. You are the one that is rebuilding your property, and in some cases, your life! So it is wise to choose an emergency restoration company whose top priority is you. That's Lipscomb Restoration Solutions – Period.
To best serve all of our customers, our emergency restoration services are available 24/7, day or night. We work directly with insurance companies and even offer help to those without insurance. Contact Lipscomb Restoration Solutions today to schedule your service!
Our Emergency Services include:
Free Estimates
Available 24/7
30 Minute Rapid Response
Fully Licensed and Insured
Family Owned and Operated
We Work With Your Insurance Company
Call Restoration Solutions for immediate emergency damage restoration: (270) 963-0547